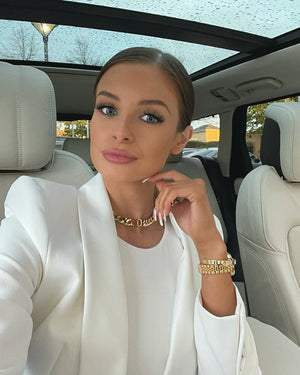 How Talliah Rose was Born
About Talliah Rose
My name is Briony Gorton & in 2016 I launched my very own clothing brand.. Talliah Rose.
I was your average 20 year old girl, living with my parents and working on the weekends whilst studying full time at Uni.
I worked at my local Pandora whilst studying Fashion Buying & Merchandising at Manchester Metropolitan University.
It was during a lecture in my second year at Uni when i really had a lightbulb moment. I can just remember sitting in my lecture, thinking to myself, I could really do this myself.. I could create my own brand instead of working for somebody else's.
That evening I went back to my uni hall and brainstormed ideas with my mum of facetime & by 11pm that evening, I had decided I was going to have a go at starting my own business.
Together we decided, the route I wanted to go down was creating my own swimwear line. The only problem was I only had around £100 in my bank account & that money was supposed to last me until the end of the month at uni.. lol.
And so with that £100, myself and my mum went and bought some fabrics from a local fabric shop in my hometown of Bunrley.
I honestly sat for days on end sketching out my first bikini design, and fast forward 2 weeks and some tears.. my first bikini came to life. It was completely hand made and covered in Swavorski crystals as i come from a dancing background.
I didn't know anything about websites or ecommerce platforms, so I modelled and listed my first design as 'made to order' on the selling app 'Depop' which i also used to sell some second-hand clothing.
Overnight my first sale came in and fast forward 6 months and a few more designs, I left my job and dropped out of uni to pursue my passion.As summer came to a natural end, I started searching for clothing suppliers and manufacturers and in the October of 2016, I launched my first clothing range.In 2018, our first website launched and this was the start of Talliah Rose becoming a well know women fashion brand.
Over the past few years, we have grown from strength to strength and when the pandemic hit in 2019, we really exploded on social media & we very quickly outgrew our small unit.In 2020 we moved into our current premises which holds 2 warehouses, 8 offices, a photo studio, a boardroom & a click and collect base for local online customers.But the best part is, my mum, dad, cousin Claire and family friends are now all working for the brand. We really are a family firm and I love it.In 2022 after the world had re opened fully after Covid-19, we decided to open our first Hight Street store in my home town where Talliah Rose was born.. Burnley.You can find our store at 59 The Mall, BB11 1BA & who knows, we may just be coming soon to a High Street near you.
Most importantly I'd like to think each and every person that has supported my dream from the very beginning. Whether that be a new or returning customer, or just a simple like, comment ore share on our socials. I see it all and it means the world to me, so thank you.
Speak soon, Briony xo